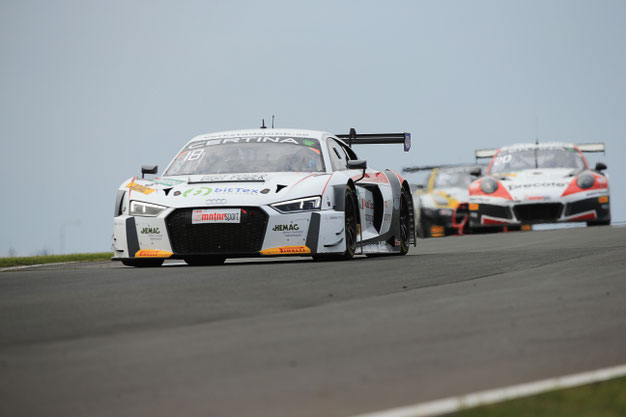 What a weekend! There were a lot of up and downs but in the end Ricardo has a lot of positive things to take home.
The weekend didn't start well because it was very difficult to find the right balance in the car. In contrast to the training session that took place in June, the car behaved totally different. No balance, no grip, nothing. It was very hard to keep the car on the track. This resulted in a spin of Mikaela that unfortunately ended in the wall in the last turn. Miraculously the crew could fix the car overnight and Ricardo participated in the qualifying on race day one. But despite the fact that the car had been fixed after the crash, it drove itself even worse. Up to now it is still unknown if the chassis is bended or not. A detailed analysis in the factory will give clarity. Two red flag situations during qualifying didn't help to get a decent time either. In addition, because the team couldn't participate in the second training on Friday, valuable track-time was missing. Race one ended as expected and there was not much to win for the team. This was very frustrating as Zandvoort raceway is one of the favorite tracks of Ricardo.
The second qualifying on Sunday didn't end much better. The car was difficult to drive which ended in the second to last start position in a competitive field. Weather conditions however were changing on Sunday. Exactly at race start it started to pouring down with rain. After a difficult first half hour of the race Ricardo took over the car. At that time the car was at the very end of the field. In the wet the handling difficulties of the car didn't seem to be that severe and Ricardo felt comfortable immediately behind the wheel. In the course of his stint he brought the car forward from P24 to P13 (race was finished on P14 but because the Audi of Rahel Frey and Philip Geipel got a 30 second penalty, Ricardo and Mikaela gained another position). The fans could witness some nice overtaking maneuvers. If the race would have continued a bit longer a position even better than P13 would have been in reach.
What are the take home points for Ricardo? Without significant time spent in the wet, Ricardo also proved to be very fast if the conditions are difficult. Especially in the wet it is a tight line between success and failure. Ricardo seems to be able to find the right balance between attacking and safe driving. This is very promising looking ahead on the upcoming races.
The next races will take place at the famous Nürburgring in Germany on the weekend of 5th August 2017.