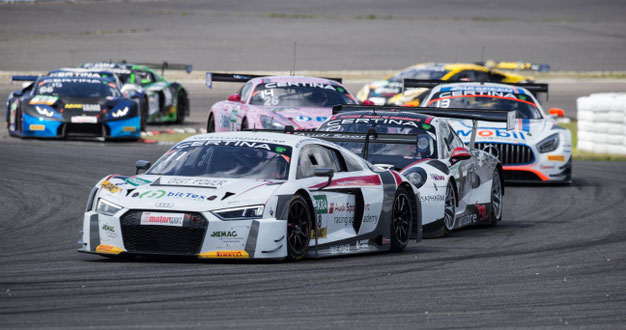 It was a tough weekend at the Nürburgring but nevertheless, Ricardo can take home some very positive things.
Because of the crash during the first training session in Zandvoort (from the 21st to the 23rd July 2017) the car had to go back to the factory. While checking the car in detail, the technicians found out, that the chassis was indeed bended as it was already expected from the drivers. With that in mind the result of the 2nd race in Zandvoort (for detailed information read the memo below) is even more valuable.
As it was impossible to continue the season with a bended chassis, the team received a new one. For the drivers this is a good thing. But it also meant that Ricardo and Mikaela had to get used to a new car quickly. The training sessions were used to configure the car and to get the settings right. Optimistic they started into qualifying for the first race on Saturday. With P23 they couldn't show the full potential for the car. Once you are in the back of the field it is nearly impossible to get a good result as fights for positions are as severe as in the front. They finished race 1 on P22. With Ricardo on the wheel for the 2nd qualifying the team started into the Sunday program. Ricardo managed to push the car up to P11. This was not only for Ricardo but also for the team the best qualifying session so far of the season. It also showed the potential of Ricardo and the car. Unfortunately the race was not as successful as the qualifying with P17 as end result. Once again the ADAC GT MASTERS proved to be extremely competitive and tough. One mistake is enough to ruin a race.
What are the take home points for Ricardo? Ricardo feels comfortable behind the wheel of the car with the new chassis. Especially the qualification laps of the Sunday-race showed his full potential. This is very promising for the upcoming race, for Ricardo's self-confidence and the team spirit.
The ADAC GT MASTERS will take a little break. The next races will take place on the weekend of 15th September 2017 at the Sachsenring (http://www.sachsenring-circuit.com).